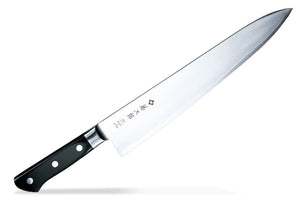 TOJIRO VG10 Clad Steel with Bolster Chef Knife 300mm F-811 Japan
Brand:  Tojiro
Type:  Chef's Knife
Blade Material: DP Cobalt Alloy Steel Clad Material 
                           Core:  Cobalt Alloy Steel (VG10)
                           Outside:  13 Chrome Stainless Steel
Blade Length: 300 mm (11.8'')
Total Length: 435 mm (17.1'')
Weight:  325 g (11.4 oz)
Handle: Reinforced Laminated Material with Bolster
Edging: Double Bevel
Made in Japan
* Recently, the design has been renewed and the letters DP on the blade may have changed to VG10.

TOJIRO's flagship model. VG10 as core steel, clad by 13-chrome stainless steel, it has achieved both professional sharpness and easy maintenance.
Reinforced laminated handle is very durable and tough, not easily deformed and strong against deterioration over time.
Metal bolster is very hygienic and prevents stain and dirt from being accumulated between blade and handle.

VG-10
 VG-10 is high-carbon stainless steel containing cobalt, hard. The material is excellent sharpness and has wear resistance. So spreads between the professional. It is developed and made by Takefu Special Steel Co.,Ltd.  It's Japanese company. 
     If the entire blade is very hard, it is difficult to sharpen. If the edge is soft, it is dull, and the sharpness falls immediately. So the hard material is used in the center only, the soft material is used in the side. This series has been loved as standard articles for a long time. The edge made by skilled craftsmen provides you an amazing sharpness. Once you have, you will never part with it. The true professional use this series.