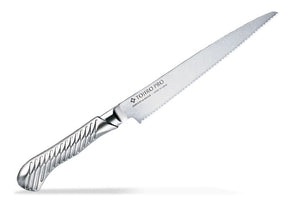 Tojiro Pro Service en Salle VG10 Bread Slicer 215mm FD-711 Japan
Brand: Tojiro Pro
Type: Bread Slicer
Blade Length: 215 mm (8.4'')
Total Length: 365 mm ( 14.3'')
Weight: 125 g (4.4 oz)
Blade Material: Molybdenum Vanadium Steel
Handle: 18-8 Stainless Steel
Edging: Serrated
Made in Japan

Service knife produced by under supervision of French Food Culture Center.
Blade is Molybdenum Vanadium steel which has excellent wear and rust resistance.
Its handle form is designed to suit unique grip handling of French food servicemen/women. Handle is hygienic all stainless steel with texture so called "tornado pattern" that prevents wet or greasy hand from slipping off.

Tojiro-Pro "Service en Salle" Service Knives Series
Specialized for Professional Service Person. It is the First in the World.

Tojiro have been doing positive activities under a slogan "World-wide exchanges and inheritance of food and cooking culture". As one of the activities, they have been a sponsor of "Contest of Restaurant Service – Maitre de Service Cup" and also a corporate supporting member of "Association des Maitres de Service". They found that there are no knives specialized for services in the world through the activities and saw service persons are taking pains. That is why they developed first service knives in the world in corporation with Toshikazu Fukuoka, a chief service instructor of FFCC (French Food Culture Center), prize winners and Association des Maitres de Service. "Tojiro-Pro Service en Salle" series are recognized as Association des Maitres de Service's recommended knives. The refined sharpness and magnificent usability has also good reputations. Also a champion of the 9th contest in Japan, Osamu Takamori is regularly using "Tojiro-Pro Service en Salle" series and he also conquered the world contest with his skills and the knives.

No Compromise with the Sharpness

Supporting an accurate and quick cutting is one of most important points in a service field. In a developing process, they never compromise with the sharpness at all, neither because "Tojiro" have been particular about the sharpness as many people know. Because the special edging is done by full-time workmen one by one carefully, the knife moves to the direction where a service person intend to.

Beautiful Knife is Necessary for Restaurant Services

In developing this series, I had three points in my mind, which are comfortable grip, easy control and beauty. I offered detailed requirements on handle, bolster and blade.
They must be very difficult or I even thought it might be impossible, however, they are all realized exactly I imagined. I was so surprised at Fujitora's very high skills and the quality of design.
I am also very proud of them. Usually I am demonstrating in front of students as an instructor.
I am so happy to have opportunities to tell and show them how good these knives are. I expect that not only service person but everyone who is engaged in cooking use "Tojiro" and entertained their customers with wonderful presentation.

Toshikazu Fukuoka
Chief Instructor of French Food Culture Center


Exclusive Knives for Service, "Association des Maitres de Service" Recommends.

This series is for professional Gueridon Service people developed by corporation of Mr. Toshikazu Fukuoka, chief instructor of FFCC (French Food Culture Center). Also Association des Maitres de Service recommends.

It is first trial in the world. It realizes "fascinating service" and necessary for the service.

VG-10 is high-carbon stainless steel containing cobalt, hard and HRC is 60-61. The material has excellent sharpness and abrasion resistance. So it spread between professional recently. It is developed and made by Takefu Special Steel Co.,Ltd. It's Japanese company. If the entire blade is very hard, it is difficult to sharpen. If the edge is soft, it is dull, and sharpness fall immediately. So the hard material is used in the center only, the soft material is used in the side.


Note: Don't twist edge, and don't cut and hit frozen foods or bones, the edge will be chipped or broken.