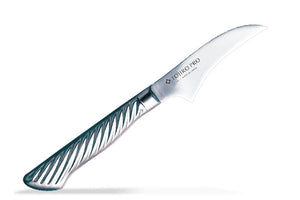 Tojiro Pro DP VG10 All Stainless Steel Peeling Knife 70mm F-843
Brand
: Tojiro
Type
: Peeling Knife
Blade Material
: DP Cobalt Alloy Steel Clad Material
Core
: Cobalt Alloy Steel(VG10)
Outside
: 13 Chrome Stainless Steel
Blade Length
: 70 mm ( 2.7'')
Total Length
: 190 mm ( 7.4'')
Weight
: around 65 g (2.3 oz)
Handle
: 18-8 Stainless Steel
Made in Japan
* Recently, the design has been renewed and the letters DP on the blade may have changed to VG10.

Global Standard of All Stainless Knives with Sandwiched Blade
DP cobalt alloy steel is an epoch-making clad steel manufactured by low temperature gas reduction method, which takes away impurities in a ore and lead to high purity iron.The cobalt alloy steel is sandwiched by 13 chrome. This series is absolutely "Global Standard" of all stainless knives combining 3 layers blade, which has good reputation among professionals with stainless handle.z

The sharpness without compromise and easiness of care are realized. Combining layered material with stainless handle,it is also very popular in Europe and throughout the world.

If you need more sharpness, 63 layers of Tojiro Nickel Damascus Steel Series for expert and 37 layers of Tojiro DP Damascus Series for professional are also available.
Adopted 18-8 Stainless Steel for All Series
We put tornado patterns, which is an identity of "Tojiro" on handles that were designed considering comfort grip as a top priority. The tornado patterns give you a not only the beautiful looking but less slippery even if you use with wet or greasy hand. The handles also have weight plate inside. It will realize an optimum balance and lead to your perfect control.

Because we never try to be very different for the shape of the handle to keep advantages of traditional wooden handle, you can use it as if the handle was the same one you have been using. Of course this handle is no breakage and corrosion with long time use.

Also because stainless handle does not have any chink, crack or connection part just like wooden handle, it prevents bacteria spreading and sterilizing in boiling water is possible.
Artistic Edging with Heart and Soul
Sticking to sharpness, the edge satisfies even professionals. We have more than 5 manufacturing process for edging on this series and are willing to spend a lot of time. Usually, durability is required for business-use, however, "Tojiro" have been pursuing the sharpness and studying edging and structure of a blade for a long time. This is one of a reason that many professionals use "Tojiro" as their favorite knife all over the world.
"Tojiro", A Pioneer of Stainless Handle with 3 Layers Blade
A standard of "Tojiro", pursuing the sharpness. Various kinds are available such as boning, western deba, bread slicer, etc. Also all stainless Japanese knives, first ever in the industry, and Chinese knives are very popular among professionals who need to keep their knives hygienically. Plus, the all stainless spatulas and the sharpener are also available.


VG10
VG-10 is high-carbon stainless steel containing cobalt, hard. The material has excellent sharpness and abrasion resistance. So it spread between professionals. It is developed and made by Takefu Special Steel Co.,Ltd.  It's Japanese company.
If the entire blade is very hard, it is difficult to sharpen. If the blade is soft,  it is dull, and sharpness falls immediately. So the hard material is used in the center only, the soft material is used in the side.


This series has been loved as standard articles for a long time. The edge made by skilled craftsmen provides you an amazing sharpness. Once you have, you will never part with it. The professional use and love this series.
Note: Don't twist edge, and don't cut and hit frozen foods or bones, the edge will be chipped or broken.