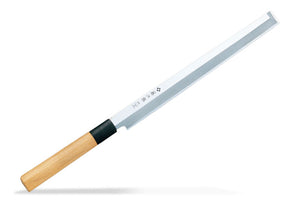 Tojiro Molybdenum Vanadium with Resin Collar Tako-Sashimi 270mm F-1061
Type:  Tako-Sashimi Knife
Blade Material:  Molybdenum Vanadium Steel 
Handle Material:  Magnolia + Resin Collar
Bolster:  Polypropylene
Blade Length: 270 mm (10.6")
Total Length: 405 mm (15.9")
Blade type: single bevel & right handle
Weight: 130 g (4.5 oz)
Item Number:  F-1061
  Tojiro stainless steel Japanese style knives are carefully manufactured one by one by skillful craftsmen. It has both modern and traditional advantages, which is easy maintenance of stainless steel and genuine sharpness, and it is therefore loved by many professionals. Enjoy Tojiro stainless steel Japanese style knife series.

  Blade made from wear and rust resistant Molybdenum Vanadium steel. So that its maintenance is easier than carbon steel knives and therefore suitable for beginners. However, edge is carefully sharpened without compromise by our craftsman.
Handle is made from magnolia and has good water resistance.
Superior characteristic
1,  It is the new generation of Japanese traditional cooking knives. The material has the characteristics of both anti-corrosion and abrasion resistance, while keeping the Japanese traditional sharpness.  
2,  Edge by skillful craftsmen, its excellent sharpness is guaranteed from your first use.