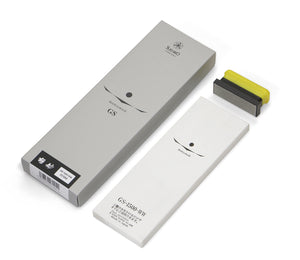 Suehiro Gokumyo GS series GS-1500-WW Final Medium Whetstone grit #1500 (no inclueded Rubber Stand)
Experience the smoothness of superb sharpening.
Never deforming or degrading, the "Gokumyo" is our ultimate whetstone.

The "Suehiro Gokumyo Series" is made with our unique combination of ultra-fine abrasives, and binders. This high temperature fired ceramic whetstone, while taking full advantage of the properties of ultra-fine abrasives, overcome the drawbacks of conventional natural and resin based whetstones, which could lose their hardness due to temperature changes, or when immersed in water, and which could suffer surface degradation and cracking.

The "GS Series" have a wide variety of products from coarse, medium to finishing whetstones with a smooth and exquisite sharpening performance at easy to set sizes from #240 to #1500.
Since the rubber stand is not included, please use the rubber stand that you have or purchase GS-BGS dedicated to the GS series.

Product No. GS-1500-WW
Final Medium Whetstone grit #1500
Whetstone Size 205×72×10mm
Package Size 265×85×30mm
Appr. 480g
Includes diamond dressing stone
Made in Japan
Usage Instructions:
This well-made whetstone has a dense concentration of ultra-fine air pockets and can be used immediately by lightly wetting it. Before using the whetstone, either briefly submerge it in water, or wet the surface with your hand, then begin sharpening. Under normal circumstances (summer or winter temperature variations, immersion in water), there is no risk of a loss of quality. It can be used in the same manner as conventional (kiln-fired) whetstones.
* To maintain the stone's ability to sharpen, please clean the whetstone with water and restore the surface with the diamond dressing stone included in the set after each use.