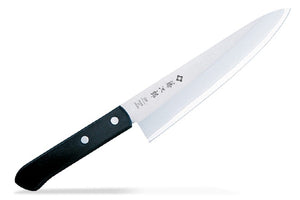 Tojiro DP A-1 Series by 3 Layers with no Bolster Chef's Knife 180 mm F-302
Brand:  Tojiro
Type: Chef's Knife
Blade Material: DP Cobalt Alloy Steel Clad Material 
                           Core:  Cobalt Alloy Steel (VG10)
                           Outside:  13 Chrome Stainless Steel
                           Double edged
Blade Length: 180 mm ( 7'')
Total Length: 300 mm ( 11.8'')
Weight:  95 g (3.3 oz)
Handle: Reinforced Laminated Material
Item number: F-302
Made in Japan
* Recently, the design has been renewed and the letters DP on the blade may have changed to VG10.

    VG-10 is high-carbon stainless steel containing cobalt, hard. The material is excellent sharpness and wear resistance. So spreads between professional recently. It is developed and made by Takefu Special Steel Co.,Ltd.  It's Japanese company. If the entire blade is very hard, It is difficult to sharpen. If the edge is soft, It is dull, and the sharpness falls immediately. So the hard material is used in the center only, the soft material is used in the side.   
DP A-1 series by 3 layers  
HIGH QUALITY COOKING KNIFE 
    This series knives are designed from the idea of suitable blade thickness for house use with theme of  ''Tojiro for everybody''. It came true the satisfied sharpness from beginner to professional cooker by easy insert to food materials.

     The blade of DP A-1 series is thin, so the blade can cut into very smoothly and you can sharpen easily and more quickly. Let's taste this sharpness! Dull kitchen knives waste time and power, and worsens taste of the food. Good kitchen knife makes cooking fun, give feeling of satisfaction!

About this Feedback

Amazing knife, thank you!