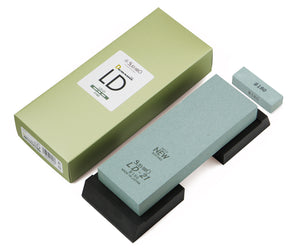 SUEHIRO The DEBADO LD Professional-use Size 1 Coarse Whetstone grit #180 LD-21 (stand included)
$62.50

$62.50

Save

$12.50
---
---
The Size 1 is for professionals looking for superior performance from their professional- grade knives.

The DEBADO LD is a popular series of whetstones for professionals and professional-grade knives. The Size 1 retains its former superior sharpening quality while incorporating advances in effectiveness and non-absorbance. Made with suehiro's original manufacturing process for producing fired, non-absorbent whetstones, the grinder becomes slick with just a few drops of water. Ideal for achieving a sharp edge, the whetstone is harder than previous models and resistant to wear. While designed for professional-use knives, the series is also recommended for the regular maintenance of household knives.
Manufacturer: Suehiro
Product No. LD-21

Stone Size:  206×73×29mm (8.1×2.8×1.1'')
Package Size:  260×105×55mm (10.2×4.1×2.1'') 
Type: Coarse Whetstone grit #180
Includes stand and surface restoration stone

Made in Japan

Fired whetstones:
※This item is manufactured according to suehiro's original firing process. The product does not contain synthetic cement, nor is it made by the Gokumyo process.