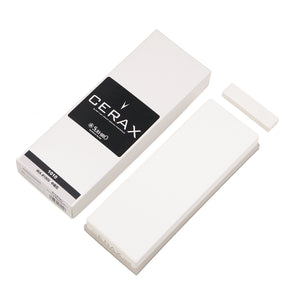 SUEHIRO CERAX 1010 Medium Whetstone grit #1000 (with rubber frame)
Manufacturer: Suehiro
Product No.: CERAX1010
Type: Medium Whetstone grit #1000(WA)
Whetstone Size: 205×73×29mm  (8.0×2.8×1.1'') 
Package Size: 235×86×35mm  (9.2×3.3×1.3'') 
Weight: approx 1000g
Made in Japan
Whetstone cleaning stone is included.

CERAX series has a broad range of products from super fine finishing whetstones to coarse, medium whetstones. The products of this series are suitable not just for professionals but also for household users who want to pursue higher quality in sharpening. CERAX can be used to sharpen various kinds of blades including kitchen knives, carpenter's tools, hatchets, and other knives.

Ideal for medium sharpening of both professional and household kitchen knives, such as 'Deba', 'Yanagiba' and 'Gyutou' knives. Size1, grit 1000 medium whetstone with a rubber frame.